Toronto Area Info - Shopping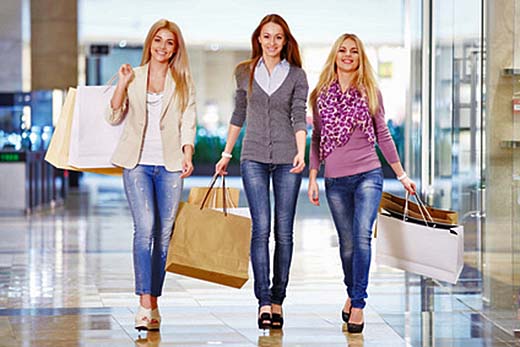 Wherever you are located in the Greater Toronto Area you will find a wonderful variety of stores - something to suit everyone. Giant malls containing all the major retail stores, retail outlet parks, historic main streets, flea markets, the famous St. Lawrence Market and of course Downtown Toronto with everything from Honest Ed's to the exclusive stores on Bloor Street.
Below you will find links to some of the malls and shopping areas in the GTA.
The Promenade Mall - Thornhill
http://www.promenadeshoppingcentre.ca
Don Mills Centre - Don Mills
http://www.donmillscentre.ca/
Fairview Mall - Hwys. 401 at 404
http://www.fairviewmall.ca/
Hazelton Lanes Shopping Centre - Toronto
http://www.hazeltonlanes.com/
Hillcrest Mall - Richmond Hill
http://www.hillcrestmall.ca
Markville Shopping Centre - Markham
http://www.shopmarkville.com
Square One Shopping Centre - Mississauga
http://www.toronto.com/E/V/TORON/0004/50/93/
St. Lawrence Market
http://www.stlawrencemarket.com/shop/
Upper Canada Mall - Newmarket
http://www.uppercanadamall.com
Shops of Main Street- Newmarket
http://www.newmarket-online.com
Woodbine Centre - Etobicoke
http://www.woodbinecentre.ca
Yorkdale Mall
http://www.yorkdale.com
More Info
Real Estate Aurora - Real Estate Buttonville - Real Estate Maple - Real Estate Markham - Real Estate Newmarket - Real Estate Richmond Hill
Real Estate Thornhill - Real Estate Toronto - Real Estate Unionville - Real Estate Vaughan - Real Estate Whitchurch-Stouffville - Real Estate Woodbridge