Sellers - Showing Your Home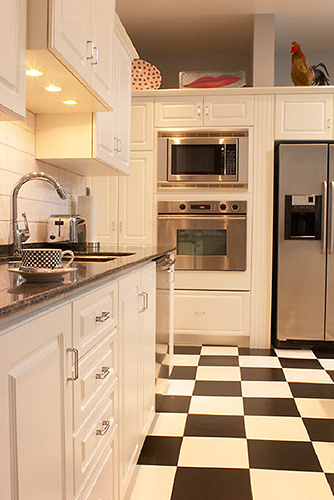 Whenever possible, allow a showing when requested. Allowing Buyers into your home at a time they choose is one of the key reasons a house sells quickly. Buyers are working on their own schedule, if they can't see your home at their convenience they may buy something else before they get a chance to see it all. The greatest way to encourage showings on your property is to make access readily available. If possible ask your agent to put a lock box on the property so that agents can show the property easily and at short notice. Try to keep your house tidy and ready for showings but do not refuse a showing because you have not had time to tidy up. Remember, Buyers may buy your house if they see it when it is untidy, they will not buy your house if they have never seen it at all.
When your home is being shown, it is important to do the following:
Keep all lights on
Keep all drapes and shutters open
Keep all doors unlocked
Leave soft music playing
Keep children and pets well out of the way while the house is being shown.
Do not follow the Buyers and agents around. Offer information only when asked.
Curb Appeal
The front exposure, yard and setting reflects the overall desirability of your house to most Buyers and is also an indication of how well cared for the house is. First impressions are critical. Make certain that the front yard, front of the home and entry look as neat and clean as possible.
Clean
Most people are turned off by even the smallest amount of uncleanliness or odour. A seller can lose thousands of dollars by not presenting the property in a clean and fresh condition.
If your house is squeaky clean, you will be able to sell it faster and net more in the process. If you are planning on moving, why not get rid of that old junk now so that your house will appear larger? Pack up some of the things you will not need till after your move. Make more space, allow prospective Buyers to see the house without too many personal things to distract them from the house itself.
After you sign the listing agreement house your agent should tour the house with you and offer suggestions to make the house as appealing as possible. Please don't take offense if he or she suggests small changes or points out a pet or smoke odour. You may not notice things you live with every day but it is your agent's job to observe your home with a critical eye and suggest changes which may make a difference to how fast you sell the house and how much you can get for it. Odours must be eliminated especially if you have dogs, cats, or if you are a smoker. You may not notice the smell, but Buyers who are not smokers or pet owners will!
Paint and Carpet
Nothing improves a property more than fresh paint and clean broadloom.
Paint makes the whole house smell clean and look crisp. If your house has chipped paint, exposed wood, or the paint looks faded ... repaint.
If your carpet is dirty have it cleaned. If it is worn, outdated, or an unusual color, you may need to seriously consider replacing it. Don't think that buyers have more money than you have to replace carpet. They don't. They simply buy elsewhere.